What are the two main purposes of marketing?
As the owner of a business, the two most important messages you need to communicate to the world are:
What you do
Why you are better than your competition
Marketing —in all its shapes and forms— has the primary purpose of "broadcasting" these two messages to the largest audience possible. Businesses that are successfully able to communicate these two messages will enjoy a large and loyal customer base for life.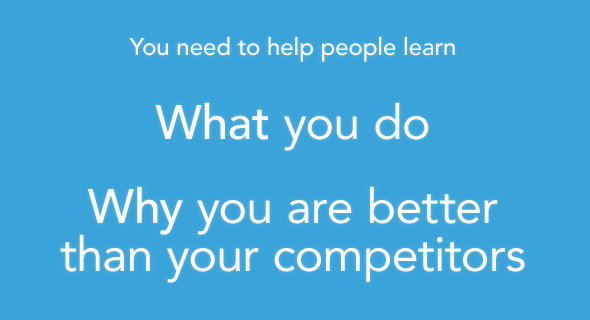 Through the years I have seen countless businesses disappear because they failed to communicate these two essential statements to their potential customers on time —businesses that spend fortunes on R&D, nice offices, lots of employees, branding, websites, etc., only to realize that their potential customers don't even know what they do or why they are better than their competitors. No matter how big your budget is, if you lose focus on these two primary tasks, you will not be able to survive in this competitive world.
What does this have to do with search engine optimization and online marketing?
Good search engine optimization is no different than traditional marketing. Everyone wants to show up on Google search results, and thousands of SEO agencies around the globe claim to have the magic trick to put your website (and your business) right there on top of the world. But let's be honest, Google and the other main search engines have evolved into what many consider artificial intelligence; in other words, Google thinks and acts like a human being. Therefore, if you want your website to rank on top of search results and get hundreds or thousands of new visitors each month, first you will have to make sure Google understands:
What you do
Why you deserve to be placed (ranked) above your competitors in search results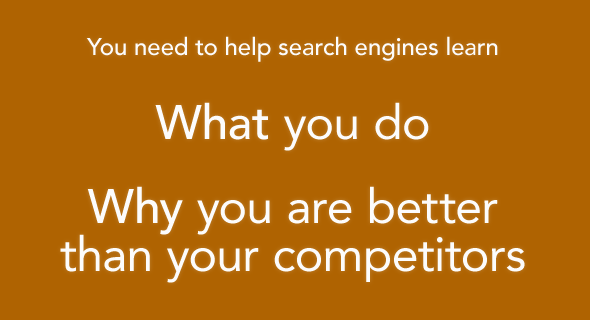 If you cannot force people into liking you, then why try to force Google?
As I mentioned above, there are herds of SEO "experts" out there claiming that they can put you on top of SERPS (search engine page results) in no time but the tricks they use are akin to giving out free booze at the grand opening of your business and then expecting to retain all the freeloaders that show up as good and loyal customers. And besides failing at getting real and lasting customers, cheap tricks also hurt your reputation as a serious business. If you really want to make your business grow, you need to communicate the right messages from the beginning.
By now you can you guess what they are:
What you do
Why you are better than your competition
Search engine optimization (SEO) is the same
. Remember, google thinks and acts like a human being so using quick'n'cheap tricks may help in getting you to the top of search results for a short period of time, but the chances of getting lasting results from using such tricks are slim to none and can only cause you to be penalized by Google and to damage your online reputation.
So here are two basic principles you need to follow to attain Long-Lasting SEO:
First principle of SEO - Make search engines understand what your website is about
I started creating websites back in the day when all that mattered was to build pretty looking pages with lots of shiny images and entertaining flash animations. There was no SEO, you just "submitted" the new site to the big search engines and directories like Yahoo, Lycos and Altavista (back then Google didn't even exist) and crossed your fingers hoping that you could get a handful of visitors during the next six months. Sadly, many so-called web developers still do things like they did fifteen years ago.
Today, content is king. If your website is about red bicycles, MAKE SURE YOU TALK ABOUT RED BICYCLES! I know it sounds logical, but you would be surprised to learn how many websites fail at this simple and essential practice. Look at the example below:
I have a friend, Juan, who runs a chain of English schools in Mexico. About a year ago he paid a large amount of money to have his website built. His site has a good visual design and feels friendly, I almost like it, the problem is that out of the 20 thousand people that are searching online for English schools each month in his home city, no one is finding him—zero, none. So a few days ago he asked me to help him figure out what was wrong. After a quick analysis, we found out that in the twenty-something pages that make up his site, words such as "english", "language", "school", "learn", etc. appear less than five times each throughout his entire website. On the other hand, words such as "friend", "facebook", "phone" and "location" appear about 35 times each. So if you were to ask Google what my friend does, Google would respond, with all certainty, something like: Juan has a website to sell phones to his Facebook friends at their locations.
Yes, that's the cruel reality: Google can't even understand what Juan's website is really about. And if Google doesn't know, how will it ever show up on search results when someone looks for a place to learn English in Mexico!?
So the amount and quality of text contents, the proper use of titles and URL addresses, and the proper structure of the information (among a few other technical factors), when all combined, help Google and other search engines understand what you do online. Once that happens (not before), you will be ready to apply the second principle of SEO.
Second principle of SEO: Make search engines understand why you should rank above your competitors
Once search engines understand exactly what your website is about, the next step in Search Engine Optimization work is about proving that your site deserves to rank above your competition. Search engine rankings are determined, mostly, by the following factors:
Quality and amount of the website's content.

Is the content of your site more useful and valuable than your competitors'?
Can visitors find what they are looking for without having to go somewhere else?

Recency and freshness.

Does your website look like it did six months ago? One year ago? Or does it feel fresh and always updated?

Popularity:

Are other reputable sites talking about you or linking to your site?
Are people talking a lot about you on social media? What do they say?
Are people leaving good reviews for your business online?

Age of the site and domain name.

Has your website been around for some time?
Did you register your domain name for one, five or ten years? (This can show Google how serious you are)

Technical aspects

Is your code clean?
Does your code validate against best programing practices?
Is your hosting server fast and reliable all the time?
Conclusion
Just like with real people, in order to have the grace of Google and be ranked high on search results, you need to make sure search engines understand what you do and why you are better than your competition. If you succeed at clearly communicating these two messages —both online and offline— you will have a healthy, growing business for years to come. Good and long-lasting online marketing efforts always require some time, money and lots of persistence; but the results are very well worth it.
So chose well whom you trust your business' online marketing and make sure they understand and stick to these basic principles. Otherwise you will only be wasting your time and resources.